1650 Barrett Dr • Rockledge, FL 32955 • (321) 632-7530 or (321) 632-7742
---
For more info contact,
Harry "Butch" Young:

A PDF Copy of the RMCS Training Course is available on request.
---
Electronic Visions, Inc. (EVI) offers a combined background of over 100 man-years in software solutions. EVI areas of expertise include electric utility systems, industrial automation systems. EVI employees supply various electric utility system software solutions for many utility facilities in America.
Updated: September 20, 2021
Radiation Monitoring Replacement
EVI has developed a state-of-the-art fully redundant field-proven replacement system for the Sorrento Electronics PC-11 and RM11R radiation monitoring systems that use the General Atomics RM-80 devices. EVI is providing replacements for Sorrento systems at two nuclear power plants. These plants are:
Florida Power and Light – Port Saint Lucie (Adobe PDF)
Wolf Creek Nuclear Operating Corporation
Electronic Visions, Inc. provides Plant Monitoring Systems solutions to the nuclear power plant industry. Our Radiation Monitor Computer System (RMCS) product helps maintain the safe function of plants by collecting real time data from area radiation monitors and displaying this data to plant operators and engineers.
KEY FEATURES:

Advanced scan, log, and alarm features, annunciation, acknowledgement, and logging
Design based on industry standards
Interface with existing monitors
Utilize commercial off the shelf (COTS) equipment
Extensive database capabilities
Site-wide licensing for HMI workstations
KEY COMPONENTS:

RMCSv2 screen shots are now available.

Screen shots from the RMCSv1
releases may be seen here and here.
| | |
| --- | --- |
| Advanced Features | The RMCS is built upon the rock-solid PICS software used on many Plant Process Computers. This software in concert with the latest Windows Operating Systems, industry standard workstations, network switches and data acquisition equipment provides a robust, highly reliable system. Alarming, archiving, database management, point controls, trends, Flow Diagrams, reports, and security features are all inherent features of any PICS that hosts the RMCS applications. |
| Industry Standards | Our open system architecture allows the RMCS to be easily interfaced with other plant systems with your site's LAN. The ability to integrate customer applications developed using Microsoft tools enables users to manage data for individual needs and special purposes, extending the benefits beyond operators to engineers and secondary users. |
| Cybersecurity | EVI has implemented significant architectural changes to our products in response to regulatory requirements and to fully meet the recommendations of NEI 08-09. |
| Operator Friendly | The RMCS delivers the data through point and click menus that are easily configured for your plant as well as individual workstations. |
| | Operators may have a separate set of views from engineers or radiation protection personnel. Current values or historical data may be displayed in trends, bars, plant flows or downloaded into a spreadsheet. |
| Database Driven | The point I/O list and associated PICS files and tables reside in our database server. Access to the PICS real-time data using standard desktop productivity tools via DDE is available as an add-on. |
| Display Station | The RMCS Display program (EV11) builds on EVI's extensive experience customizing displays for previous PICS installations to provide an easy-to-use RMCS interface experience. The EV11 provides an interface to both real time and historical data. |
| Loop Diagnostics | RMCS provides a large assortment of diagnostic displays that are designed to help discover, identify and locate loop communication issues. |
| Adaptable | Almost all of the RMCS Display screen layouts are defined by external text files that may be adjusted, created and/or removed to meet specific customer needs. RMCS is typically delivered with a base set of screens that mimic the system being replaced as much as possible to minimize the need for retraining. |
RMCS Diagnostic Utility
EVI's RMCS may also be packaged as a stand-alone laptop that may be used in place of an RM-23P for RM-80 diagnostics. This package allows most of the facilities from a full RMCS system to be used for diagnostics, including historical data collection and presentation — assuming, of course that the laptop remains connected to the RM-80's RM-23P port for the collection period. Although RMCS wasn't originally designed for touchscreen use, some support has been added, some screens redesigned and at least one customer is running the RMCS Diagnostic package on industrial-grade Windows tablets.
RM-23 Simulator Display
The latest addition to EVI's radiation monitoring products is a physical replacement for RM-23 devices used in plant simulators. EVI recognized that a OEM RM-23 should not be required for a simulator, since the RM-80 itself is being simulated. EVI designed our replacement to look just like a OEM RM-23 so that our replacement will fit in the existing RM-23 location and will require no changes to operator training for the RM-23.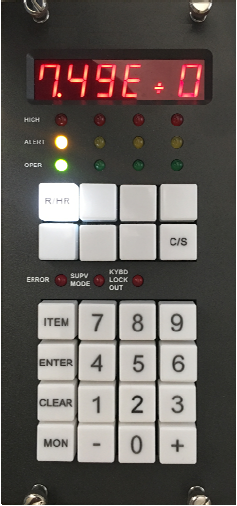 EVI's RM-23 Simulator Display (rm23sim) uses TCP/IP (and UDP/IP) to communicate with the simulator, eliminating the need for current loop conversion hardware. Currently, we offer two different communication protocols, a comprehensive EVI-designed bi-directional protocol and a much simpler uni-directional protocol requested by a customer so that EVI's device would interface with their existing simulator software without change.
Best of all, by using EVI's device, an OEM RM-23 becomes available as a spare for the real control room!
RM-80 Loop Simulator
While developing our RMCS software, we needed a way to test as if we were connected to all of the loops and RM-80s at a site. To achieve this, we created a loop communication simulator to respond to all of the appropriate communications requests as if actual RM-80s were present and answering. We built in an ability to generate every type of communication error we could imagine in order to ensure that RMCS would handle them and, hopefully, help in diagnosing the problems as well.
By default, the RM-80 Loop Simulator (aka SimLoop)performs a random walk of the RM-80 channel values and handles some basic alarming and control functions. SimLoop is also able to accept data from an external plant simulator system so that your plant simulator may provide the data to our loop simulator for delivery to RMCS or even to some other RM-80-based radiation monitoring system over serial communication lines.
SimLoop may also be configured to allow connections from EVI's RM-23 Simulator Display devices to provide physical, interactive RM-23 interface devices for a plant simulator.
Plant Monitoring Replacement
EVI employees have been involved with plant monitoring system replacements at nuclear power plants across America. EVI's Plant Integrated Computer System (PICS) replacement projects included both host computer replacement and full system replacements including field equipment. PICS also interfaces with plant training simulators to provide a consistent operator experience. Some of the most recent power plants that EVI has been involved with include:
Duke Energy Crystal River Unit No.3 (See our INFO World link (Adobe PDF))
FirstEnergy Davis-Besse Power Station
Florida Power and Light – Port Saint Lucie
Software Maintenance Agreements
EVI also provides maintenance support contracts for any plant that requires the world-class expertise that only EVI can provide. Some of our customers in this area are:
Fluor Federal Services, Inc. (FFS) – Paducah Deactivation Project (FPDP)
United States Enrichment Corporation (USEC) – Paducah Gaseous Diffusion Plant (PGDP)
Cummins Diesel, Columbus Indiana
---
NOTE:

While EVI will still support the 32 bit, Windows 7 versions of RMCS that are still in use by existing customers, development on those versions ceased at the end of 2017. All additional work is being performed only on the 64 bit Windows 10 version of RMCS.
---
1650 Barrett Dr • Rockledge, FL 32955 • (321) 632-7530 or (321) 632-7742